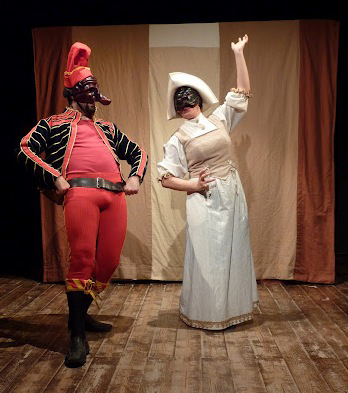 Covello's tricks (original title: Malitie di Covello) comes from Count of Casamarciano Annibale Sersale's Scenarios, a 1600 Commedia dell'Arte scenarios collection focused on Southern Italy Commedia tradition.
All the scenarios, and Covello's tricks too, seem like a treasure chest where no time recipes are taken care. You can taste farce's flavour, fairy tales's enchantment, masks' slight tragicity.
That's all Covello's tricks! Everything is essential: the very funny jokes, the contiunous sharades, the sudden and unattended hitches.
About the plot, (a very traditional plot!): Giangurgolo, our old daddy, wants to marry his daughter Pimpinella, a young, beautiful and crazy enchantress, to Captain Ridancia, a really foolish soldier of fortune.
Pimpinella doesn't want to marry Captain Ridancia, clearly, 'cause she loves Zanotto, a pretty but not so smart servant! Pimpinella and Zanotto are desperated and ask for Covello's advice.
Covello, our hero, by a lot of tricks, will be able to circumvent Giangurgolo and Captain Ridancia so our lovers will be marry themselves, even if…
But the extreme plot's triviality has not to head towards a shallow approach.
All the Commedia's actors know that all scenarios takes care the improvvisation art secret and just a patient and trained actor can try to play it.
Commedia's training starts from searching on the basic mask energy, on the right physical and rhytmical structure and on the ability to make acting unexpected.
These are some of commons art actor elements in all world figure theatre tradition.
This is the reason of Commedia dell'Arte importance and universality.
Director Francesco Gigliotti
Stage set and stage costumes Giorgio Distefano
Music
Piano Accordion: Agnese Chiara D'Apuzzo
Piano Organ: Maria Elena Lazzarotto
Percussion Instrument: Zahira Silvestri
Masks
Santelli – Celestini – Artigiani Anonimi
With
Agnese Chiara D'Apuzzo, Francesco D'Atena,
Maria Elena Lazzarotto, Zahira Silvestri
Contact
Compagnia Opera Prima
Via dei Cappuccini, 76 – 04100 Latina – Italia
Tel/Fax +39 0773 268727
operaprimalt@libero.it
www.operaprimalt.it